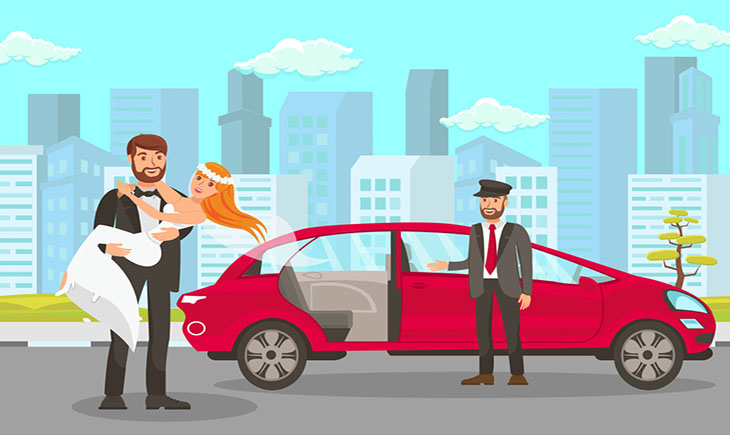 Wedding Cabs in Indore, Book Now!
We provide wedding cabs in Indore that consist of cars like Mercedes, BMW, Audi & Volvo for your wedding to make it a memorable one. We own the best fleet of cabs ideal for weddings. You can choose any of these wedding cabs for hire in Indore at very affordable rates. Our wedding cab services are available round the clock. For more details, you can also contact us by phone at our helpline number. We have professional drivers who are well trained to provide complete comfort and safety to the clients. We ensure that you, your loved ones and friends get a safe ride home for everything from bachelor parties to late night dance events. Our cabs can accommodate more than 10 people, so whether you're headed out with a big group or need a safe way to transport your family after the wedding, we have you covered.
Advantages of Hiring Wedding Cabs in Indore:
To ensure that your wedding transportation is hassle-free, reliable, comfortable and safe, you can hire wedding cabs in Indore. There are many car rental agencies which offer affordable deals for their clients to hire cars as per their needs. We help you arrange the best wedding cab for your wedding party. Here are some advantages of hiring our wedding cabs in Indore:
Our cars are latest models with all amenities.
The staff will arrive on time and be dressed accordingly to your taste. They can even dress up as per the need of the hour or occasion.
Our staff is courteous and helpful.
We have the latest fleet of cars including Audi, BMW, and Mercedes & Volvo.
Our drivers are well-versed with the roads of Indore and thus can easily cover a long distance within a short span of time.
Booking Procedure for Wedding Cabs in Indore:
Wedding cabs in Indore can be easily booked with us by filling the online form or by contacting us directly. You can either choose our instant booking option which is available 24 hours a day or give us a call to schedule a cab for you. We have online payment options for our clients which include PayPal, credit cards and debit cards so that you can secure your booking with us easily.
Our fleet of cabs is new and well-maintained. We have extra pickups added in case there are more people on board. Also, our cars are well-equipped to handle any situation in any kind of weather. Whether you want an elegant sedan or a luxurious SUV, we have what you need. We provide our wedding cabs in Indore at very competitive rates without compromising on the quality of these cabs.